In 2011, New Zealand's The Naked and Famous released their synth-pop debut Passive Me, Aggressive You; which included the sugary electro-pop anthem "Young Blood," which hit the radio like a runaway train carrying a cargo of starburst choruses, metallic synths, and soaring vocals. With comparisons to early MGMT floating around the blogosphere (which wasn't fair, if you ask me), The Naked and Famous established themselves, rather quickly, as the electro-pop outfit you'd expect to hear on video game soundtracks and cable TV.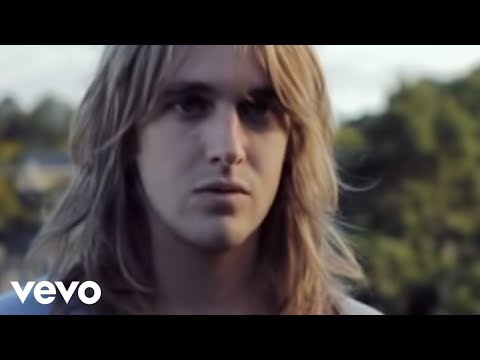 Then something happened: Thom Powers (vocals/guitar) and Alisa Xayalith (vocals/keyboard), toured the world on some 200 blistering dates, settled down in Los Angeles (Hollywood, to be exact), and began to get a bit melancholic in the process. The overwhelming amount of tourists, the constant feeling of being trapped in a giant theme park, and the bro'd-out anthems at Hollywood nightclubs were a bit much for the artsy New Zealanders. So they packed up their bags and headed over to the Laurel Canyon, a place of rock 'n' roll legend, to began working on new material under the influence of raging emotions, alt-rock tendencies, and the kindred spirits of Joni Mitchell, Carole King, and Carly Simon.
But before landing in L.A., the endless tour dates sharpened the organic elements in their sound, and allowed them to create a live show that now includes a psychedelic explosion of lights, industrial flourishes, and a loudness of sound that rivals early shoegaze pioneers like My Bloody Valentine (just the volume), and brings all the dazzling stage show of a massive touring pop machine.
With Jesse Wood (bass) and David Beadle (drums) providing the heavy fuzz backdrop to Thom and Alisa's soaring boy-girl vocals and dreamy electro – the Naked and Famous began to evolve into a proper live band. While they remained within the electro-pop framework of their previous record, their sound began to evolve as they brought more musical elements into play; including darker, more brooding lyrics, '90s alt-rock power chords, and industrial NIN-inspired effects that like a lightning bolt; shocked their entire electro-pop framework into something wild and more organic. Like the city they called home, the Naked and Famous sound transformed into a melting pot of arrangements fueled by mental anguish, dystopian nightmares, and Disneyland.
Feeling disconnected from their home, inspired to record a new record, and sprawled out in L.A. under the hot sun – the Naked and Famous began to record In Rolling Waves. The resulting product is a juxtaposition of electro-noir that deserves to be experienced live, to be truly appreciated. The opening track "A Stillness" opens with a gypsy-inspired acoustic guitar that sounds like an intro to a Who record. "A Stillness" foreshadows the vibe throughout In Rolling Waves; which travels between wormholes of organic textures, electronic compositions, and '90s alt-rock guitar riffs that provide the mood for words that dive deep into violent dreams and emotional depth.  Produced by Thom Powers, Aaron Short, and Justin Meldal-Johnsen (M83, NIN), In Rolling Waves is an experimental record, but also built on a massive moving framework of glossy productions that keep the Naked and Famous closely connected to their polished origins. The single "Hearts Like Ours" is a great example of how the band can still crank out a pop anthem, even on a record with achingly intimate cuts like The xx-sounding "Waltz," the emo-tinged "Grow Old," and the dreamy warmth of "We Are Leaving." Then, suddenly, the record ignites with "I Kill Giants," an '80s-sounding stadium anthem that vibrates through the spine; shaking the body with an overwhelming amount of fuzz, heavy bass-synth, power chords, and atmospheric pressure.
After hearing the record in full, I knew I had to see the Naked and Famous live.  Invited to see at the Wiltern, I was interested to see how In Rolling Waves would translate live. They opened big, leading into with "Hearts Like Ours" early in the set, and each song subsequent song was accompanied by an equally impressive array of colors that exploded through Thom and Alisa and covered the crowd in dark red, ocean blue, pink, and golden hues that turned the Wiltern into an electro-pop palace of saccharine noise (seriously, this band is beautifully loud). The atmosphere would shift, every song or so, creating a mesmerizing experience that included a consistently booming bass and seductive boy-girl vocal exchange. They closed with "Young Blood," which had every single person yelling "Yeah, Yeah, Yeah, Yeah" through the rainbow of lights and shiny noise that floated over their heads – it was brilliant to just let go and enjoy a moment of saccharine pop with friends.
A Naked and Famous gig is a nonstop emotion rollercoaster that takes you high with electro-rock anthems, and drives you straight into a darker place that is somehow, in cuts like "Rolling Waves," a pleasantly numbing experience that seduces the senses like a neon-colored opium poppy from some other planet. All in all, it was truly an experience every music nerd should experience, at least once, and just let go of his or her snobbery and dive into a pool of colorful noise, naked.
Here is a photo gallery from the Naked and Famous show at the Wiltern this past Friday. Photos are by Andy Barron.